Sifu Anthony Caucci recently released two instructor's level DVDs on Kai Sai Wing Chun. Kai Sai Wing Chun has been, until now, a private system and was not promoted commercially. So naturally we wanted to learn more about this system of Wing Chun, where it came from, and about Sifu Caucci himself. So we asked for an interview and Sifu Caucci graciously agreed. This is what we learned:
Q. Who is Kai Sai and what makes the Kai Sai System so unique?
Christopher Casey aka Kai Sai had a passion for martial arts, especially arts designed for Lethal Combat. Kai Sai started studying martial arts at a very young age and progressed exceptionally fast (He started the age of 7 and holds a 4th Level Black Belt in Kodakan Jujitsu, 4th Level Black in Shorinryu karate and 2nd Level Black In Old Pine Tree Style Kenpo. These were his early martial arts years.) There is a good reason for this. Kai Sai had a genius IQ and a photographic memory so learning to him was a simple task. He had a huge dictionary in his house and would sometimes ask people to open it to any page and pick a word. He would then recite every definition and tell you the placement of the word and the exact page it was on. He had a talent we all dream of having. To put things into perspective, he learned Sil Lim Tao in 15 min. Not to say he mastered it that quickly but knew it by heart.
Kai Sai was a very wealthy business man with  major political connections in Taiwan. Because of his connections and fierce desire to learn martial arts he impressed the masters and  was able to pierce the secret veil of the Chinese Boxing Society in Taiwan.
Kai Sai's teachers were as follows:
G.M Lo Man Kam (Nephew of Yip Man) – Traditional Wing Chun and Chin Na
G.M Shen Mou Hui – Pakua, Hsing-I, Pakua, Shoui Chaio, and Chin-Na
G.M Liao Wu Chang – Stone Killer Monkey, Fukien White Crane, and Chin-Na
G.M Chen – Fukien White Crane and Chin-Na
G.M Wang Shu Shin – Tai Chi, Pakua, and Hsing-I
G.M Tao Ping Siang – Tai Chi
G.M Taky Kimura (Senior Student of Bruce Lee) – Jeet Kune Do
Kai Sai Studied with these teachers from the early 70's to the mid 80's and during this time he used his gifted martial arts mind to created his own method of fighting that was designed for realistic lethal combat. Because of his exceptional skill, his teachers named him KAI SAI which translates to "Victorious in Every Encounter"  Kai Sai was the Einstein of martial arts. But since he was a very private man, he did not commercialize his system. He only had two students in his life time. Manfred Steiner studied with Kai Sai for little over one year and James Cravens who studied with Kai Sai for over 10 years.  For more information about Kai Sai you can go to www.kaisaiwingchun.com
Q. Since this is the first time anyone has heard about Kai Sai do you have anything we can provide to the Wing Chun community that can authenticate his Wing Chun training?
Absolutely, here is an interview with Lo Man Kam and he states that Kai Sai was the first ever to earn a full teaching license from him. One must understand that since Kai Sai (Christopher Casey) was a Caucasian and the first ever to achieve this before any Chinese.. Now that is powerful.
http://www.lomankam.de/index.php/english-articles/97-lo-man-kam-narrates
"Kai Sai was the first to earn a full teacher's license from me. Since he left Taiwan, I have encouraged him to spread the art of Wing Chun that I learned from my uncle." – Lo Man Kam, Yip Man's Nephew.
Q. Can you tell us a little about your own Martial Arts Background?
At the age of 8 I studied Karate however decided I did not like the style after only one year. Then at age12 I decided I really did want to join a martial arts school, but all I could find was Karate and Tae Kwon Do. Then one day I came across an ad in the yellow pages that caught my eye. It said they taught Jeet Kune Do, Wing Chun, Fukien White Crane, Chin-Na, Shoui Chaio, Chinese Boxing, Tai Chi, Hsing-I, Pakua and Kai Sai Kung Fu. Many of the styles were foreign to me but I did recognize Jeet Kune Do and the term Chinese Boxing. So my journey began at the age of 12 with the Chinese Boxing Institute International. I am now 43 and still going. My martial arts background consist of Traditional Wing Chun, Kai Sai Wing Chun, Fukien White Crane, Jeet Kune Do, Kai Sai Wa Lu, Chin-Na and Shoui-Chaio. I have also studied Pakua, Hsing-I and Tai Chi.
Q. How did you get started with the Kai Sai Wing Chun and why did it appeal to you?
Before starting Kai Sai Wing Chun, I had to first complete our Traditional Wing Chun System. This took me 10 years. During my studies of Traditional Wing Chun, I was exposed to bits and pieces of Kai Sai Wing Chun which seemed so much more brutal and effective. I wanted to dive right into the Kai Sai method but was told that I must first complete the Traditional System. I now realize why one must complete the Traditional System before learning the Kai Sai Method. Kai Sai was a very private man and did not teach commercially. I believe that he did not want to waste his time teaching people who were not really serious about Realistic Combat. I guess that is why there are only 5 people in the world licensed to teach Kai Sai Wing Chun. Although, I was not fortunate enough to learn directly from Kai Sai himself, I had the great privilege of studying under Kai Sai's most Senior Student Professor James Cravens who is now the head of CBII Chinese Boxing Institute International.  
Wing Chun is supposed to be one of the most efficient arts in the world. To me that should mean efficient in all areas, not just the hand techniques. Every single detail in the Wing Chun System should be as efficient as possible. Hand techniques, foot work, kicks, and most importantly finishing your opponent. Traditional Wing Chun lacks efficiency in many ways, especially in the finish. The Kai Sai Method dissects Traditional Wing Chun and makes it much more efficient… And the Kai Sai Finish, is permanent. The whole basis of Kai Sai Wing Chun is for lethal combat. So when the Kai Sai technique is executed the goal is to terminate your opponent. Now, this does not always happen but, in the mind of the Kai Sai Fighter, this is his aim.
Q. How does your style of training/teaching differ than other Sifu's?
 

Kai Sai Wing Chun's training and teaching focuses on Realistic Lethal Combat. I personally do not know of any Sifu who currently teaching Wing Chun for Lethal Combat. Many Sifu's advertise that Wing Chun is a deadly art. But honestly, and I do not mean to offend anyone, the way it is taught "Traditionally" falls very short of being deadly. In todays fighting world, with MMA Schools on every corner, it is sad to say that Traditional Wing Chun in my opinion does not hold up to today's fighting world. I know a lot of people do not want to hear this but let the truth be told. It is not that Traditional Wing Chun is inferior to MMA or other combative styles, it's simply that most of the Sifu's today are so focused on keeping tradition and what lineage they come from they have forgotten what Wing Chun is all about. It is about being the most efficient fighting system in the world. If it wasn't for Bruce Lee, Wing Chun would not even be on the map of martial arts today.  An important point that people somehow forget is that Bruce Lee saw some of the ineffectiveness and inefficiency in Traditional Wing Chun which is why he came up with his own style of fighting, Jeet Kune Do which has a strong Wing Chun base.
Q. How does modern training compare to when you first started?
All I can say about this is, for the first 10 years of my training, I did what most people are doing now "Traditional Wing Chun". For the last 20 years, I have committed my studies to Kai Sai Wing Chun. I hope people do not think that Kai Sai Wing Chun is a style different from all the other "Traditional" Wing Chun. The only difference between Kai Sai Wing Chun and Traditional Wing Chun is the way it is applied. (All the empty hand and weapon forms are the same) If there is a more efficient way to execute a technique and you are sticking to the principles and concepts of Wing Chun, than no matter what it looks like, it is Wing Chun. Unless of course you are more concerned about LOOKING like you are doing "Traditional Wing Chun". rather than the outcome… Victory.
Q. Where does the Chin Na you teach come from?
This is a funny question and I honestly do not know how most instructors miss this. Traditional Wing Chun is saturated with Chin-Na. I do not know where in history it got lost however there are a few Sifu's that have preserved this.  If you have someone in a joint lock and your hand position is a Tan, Fook, Bong or Jum Sao etc.. is it not Wing Chun? If you fall on your back in a fight and are using your Wing Chun, is it now Jujitsu? No, Its Wing Chun on your back as long as you stick to the Wing Chun principles and concepts. Sadly, most but not all Sifu's are not well rounded fighters and have a limited arsenal. If you ever are in a real life and death situation, you better hope your arsenal and skill is better than your opponents. The more weapons you have the better chance you have of being successful. Chin-Na is just another tool that can be utilized if executed properly.  
Q. Have you ever had a chance to use your Chin Na in a real encounter and if so, how did it go?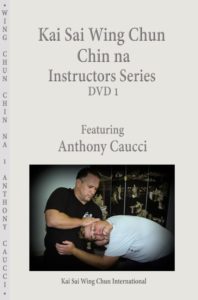 The answer is yes, many times and it went very well. Just like most Wing Chun Sifu's teach striking to the finish aiming for a K.O. or a submission, most Chin-Na instructors teach Chin-Na as the finishing technique. They get the lock then submit their opponent. Since the Kai Sai method of fighting does not believe in submitting someone, Chin-Na is used in a different and unique way. This is demonstrated and explained in my Kai Sai Wing Chun Chin Na DVD.
Since Wing Chun is a close rage fighting system the opportunity to execute a Chin-Na lock on your opponent may or may not occur. If it does, and it falls into place and is not forced, then that is the time to execute a Chin Na Lock. That being said, the lock is temporary and is used to get a superior position on your opponent. Once you have a superior position, you would then execute a Kai Sai Finish such as hooking into the eye sockets with your fingers and slamming the head on the ground, dislocating vertebrae in the neck or sometimes using the Chin-Na lock to throw the opponent on his head, NOT HIS BACK.
Q. What is your biggest contribution to the Wing Chun Community in the last 30 years?
Well I fall short on this one… Kai Sai Wing Chun has always been a private system and my passion Is the STUDY OF REALISTIC LETHAL COMBAT.  Because of its brutality, many prefer the Traditional Methods so I have not contributed much. However, In March of this year I flew to the UK and taught at the 4th UK Wing Chun Gathering where people and instructors from all lineages get together and share ideas. No egos and no lineage bashing. It is a charity event for the Birmingham Children's hospital. Now I am getting heavily involved in the Wing Chun Community and am trying to get Wing Chun back at the top of the list as an effective fighting art that can combat any style of today.
Q. What do you want the Wing Chun community to know about yourself and Kai Sai Wing Chun?
Traditional Wing Chun is very popular but it has a bad reputation as not being effective in a real life situation. Sadly, I have to agree… and I love Wing Chun. I want Sifu's all over the world to see the potential of Traditional Wing Chun if applied differently. There is no need to abandon your style or lineage, but one should understand that Wing Chun was designed somewhere around 300-400 years ago to combat the styles of those times. We can not expect an ancient art to work in todays fighting world unless we adapt to the way people fight today. In fact Kai Sai Wing Chun has evolved in the twenty years I have studied it and continues to constantly evolve. If anyone in the Wing Chun community has a more efficient and effective way of doing something, we adapt it to our system and it becomes Kai Sai Wing Chun. Ask yourself this honest question. If Ng Mui was alive today and was in the process of creating Wing Chun, do you think it would look like and be applied the way it is today? Looking at the way people fight today, your answer must be "NO WAY".  So what do WE do as true Wing Chun practitioner's? We take the principles and concepts handed down by Ng Mui and modify them to be more efficient and effective. This does not change Wing Chun. It makes Wing Chun better and will keep "OUR SYSTEM" Alive. 
Q. Who in the Wing Chun or Martial Arts World do you look up to as a fighter or a teacher?
There are two people who I highly respect in the martial arts world. The First is Kenny Mills my first Wing Chun Teacher who  has dedicated his life to Wing Chun, Real Fighting and Jesus Christ. He has always been a good friend and an awesome Sifu. 
The other person I look up to is my current teacher who is the Senior Most Student of Kai Sai (Professor James Cravens Head of the Chinese Boxing Institute International) He had the privilege to study with Kai Sai for 10 years. Professor Cravens has taught me everything I know when it comes to Kai Sai Wing Chun and Chinese Boxing. He is also a devote Christian, and an awesome martial artist who of course dedicated his life to Chinese Boxing and the Kai Sai method of fighting.
—-
We'd like to thank Sifu Caucci for sharing the Kai Sai Wing Chun system and talking to us about Kai Sai and his own history and thoughts on Wing Chun.
If you would like to purchase Sifu Anthony Caucci's DVDs or downloads, please refer to the links below:
Sifu Caucci's Kai Sai Wing Chun Downloads
Sifu Caucci's DVDs